Florida Pain Institute Physician Ashish Udeshi, MD, MBA offers a remarkable new treatment option for patients who are experiencing pain in the back, legs or buttocks, difficulty walking, numbness in the legs, calves or buttocks, or weakness and/or loss of balance.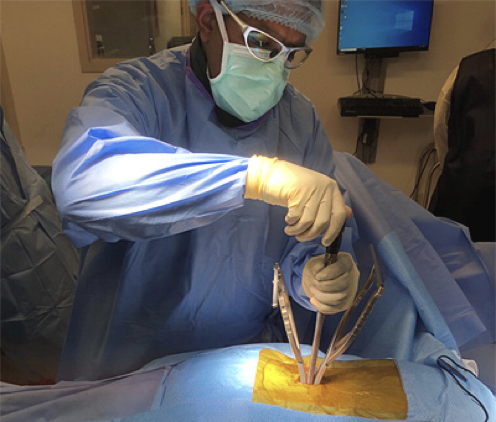 This technologically advanced new procedure, known as Interspinous Fusion, utilizes the Spinous Process Plate System to offer new hope for relief in patients who suffer from chronic pain.
The system treats spine problems using a simple and safe Less Exposure Surgery (LES) technique that makes the procedure more palatable than traditional, invasive spinal surgeries. Patients experiencing the aforementioned symptoms can now benefit from this new, minimally invasive treatment option instead.
Those who suffer from chronic back pain from degenerative disc disease, spinal stenosis, or facet arthropathy are particularly good candidates for this procedure.

About the Interspinous Fusion Procedure
Interspinous Fusion employs a uniquely designed implant that allows for decompression of the spine while maintaining proper spinal curvature.
By means of a less than 2-inch incision, a titanium implant is inserted in order to open the spinal canal and foramen.
The implant serves to:
Relieve nerve compression

Restore disc height

Decompress and fixate the facet joints to immobilize them for the bony surfaces to fuse

Interspinous Fusion eliminates the need for screws, cages, or laminectomies that may be associated with more invasive treatment options. The method is fast, safe, and convenient, providing lasting relief from pain in a procedure that lasts approximately one hour. Patients return home on the same day of the treatment.

At Florida Pain Institute, Dr. Udeshi is an integral part of our team of expert pain management physicians, and one of the first pain doctors on Florida's Space Coast to perform the Interspinous Fusion procedure.

About Dr. Udeshi, MD, MBA
Dr. Udeshi is Board Certified in anesthesia and pain medicine, and Fellowship trained in interventional pain medicine.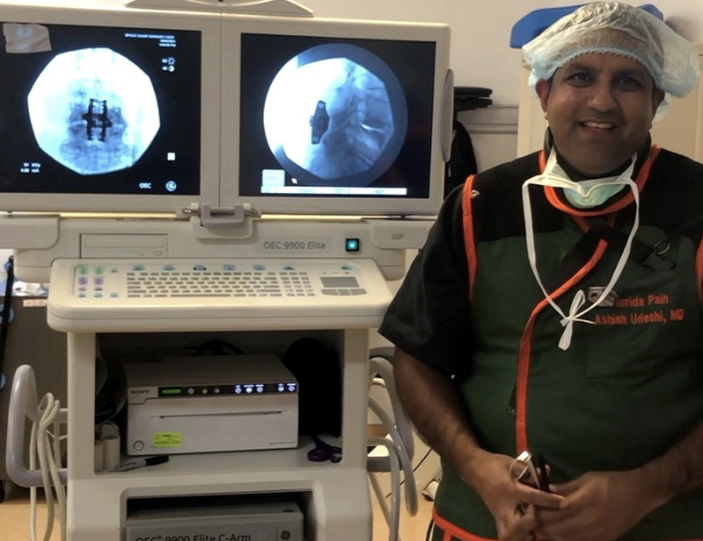 A life-time Floridan who currently practices on the Space Coast, Dr. Udeshi has devoted his time to various local, state, and international organizations, including Project Medishare and Doctor's Goodwill Foundation.
Dr. Udeshi continues to provide life-changing treatment options for chronic pain patients  at Florida Pain Institute's locations in Merritt Island, Pineda, and Palm Bay.
Is Interspinous Fusion Right for You?
If you're experiencing painful symptoms in your back, legs or buttocks, consult with Dr. Udeshi to determine whether interspinous fusion can help you find relief from your chronic pain.